When it comes to choosing the perfect office space for your business, several factors need to be considered to ensure that it aligns with your company's goals, budget, and operational requirements. The options that businesses routinely compare are serviced offices vs leasehold offices. Both options offer unique advantages and come with their set of considerations. In this blog, we'll delve into the details of both serviced offices and leasehold offices to help you make an informed decision that suits your business needs. 
What are Serviced Offices? 
A serviced office, also referred to as an executive suite or flexible office, is a fully furnished and equipped workspace that comes with a range of amenities and services. These offices are a 'plug-in and play' solution, managed by the office provider, and businesses can rent them for shorter terms. 
Advantages of Serviced Offices:
Flexibility:

Serviced offices give greater flexibility. Businesses can rent space for as little as 6 months or for many years. This allows you to easily scale up or down according to your needs.

 

All-Inclusive Pricing:

One of the most significant benefits of serviced offices is the all-inclusive pricing model. Rent covers, workstations, utilities, business rates, maintenance, cleaning, super-fast broadband, and access to meeting rooms, communal spaces, and amenities.

 

Minimal Setup Hassle:

These offices come ready to use. Equipped with modern furniture and all the necessary infrastructure, you will save time and resources that would otherwise be spent on setting up a traditional office.

 

Networking Opportunities:

Serviced offices are often home to a diverse range of businesses. This environment fosters networking and collaboration opportunities, potentially leading to partnerships and business growth.

 

Prime Locations:

Serviced offices are found in central business districts or commercial hubs, offering businesses a prestigious address that might be otherwise unaffordable with a traditional lease. Winslade Park is conveniently situated on the edge of Exeter's city centre, and is home to numerous businesses and professionals.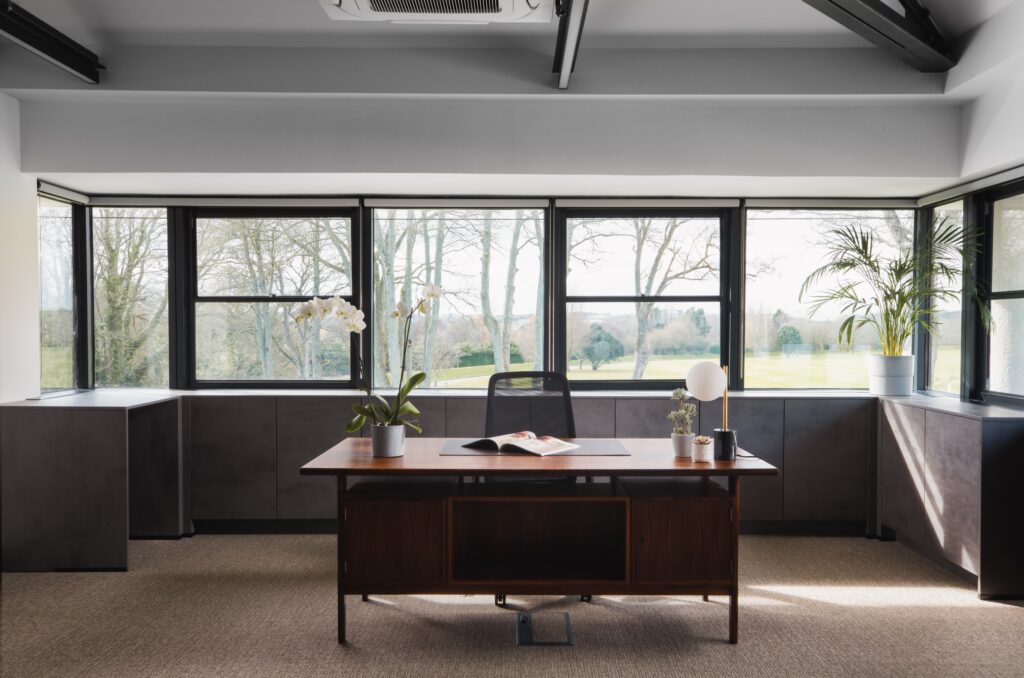 Considerations:
Cost:

While convenient, serviced offices are more expensive on a per-square-foot basis compared to traditional leasehold offices. This is because it covers the cost of servicing and maintaining the space on your behalf and for the flexibility – often a small price to pay for busy organisations who don't want this added responsibility.

 

Limited Branding:

Customisation options are more limited in a serviced office, as the layout and design are predefined.

 
What are Leasehold Offices? 
A leasehold office, also known as a conventional office, involves entering into a lease agreement with a landlord to rent an empty space. Businesses are responsible for setting up and maintaining the office, managing utilities, furnishings, and other amenities. 
Advantages of Leasehold Offices:
Prime Location:

As with serviced offices, leasehold office spaces are typically found in prime locations. Winslade Park provides a thriving business community with a variety of amenities, including Winslade Manor restaurant, Echoes Childcare, and various health and leisure facilities.

Customization:

Leasehold offices offer greater customization freedom. Businesses can design the space to reflect their brand identity and accommodate specific workflow requirements. Businesses can put their own stamp on the space from the start.

Cost-Effectiveness:

In the long run, leasehold offices are often more cost-effective, especially for businesses that plan to establish themselves for the long term. Rental costs are lower than serviced offices, and there's potential for tax deductions on lease payments.

 

Enhanced Brand Identity and Culture

:

Leasehold offices allow businesses to create a workspace that truly reflects their brand identity and company culture. With complete control over the design, layout, and interior decor, you can craft a unique and inspiring environment that aligns with your business values. This goes beyond just choosing furniture – it can include colours, materials, artwork, and layout configurations that resonate with your employees and clients, leaving a lasting impression.

 

Long-Term Cost Stability:

Leasehold offices offer greater cost stability over the long term. While the upfront costs to set up and furnish the space might be higher, the leasehold arrangement can provide a sense of financial predictability. Unlike serviced offices, where rental rates might be subject to adjustments at the end of each contract term, leasehold offices often come with fixed rental rates for the duration of the lease agreement. This stability can help businesses better plan their budgets and financial projections, making it easier to manage expenses over time.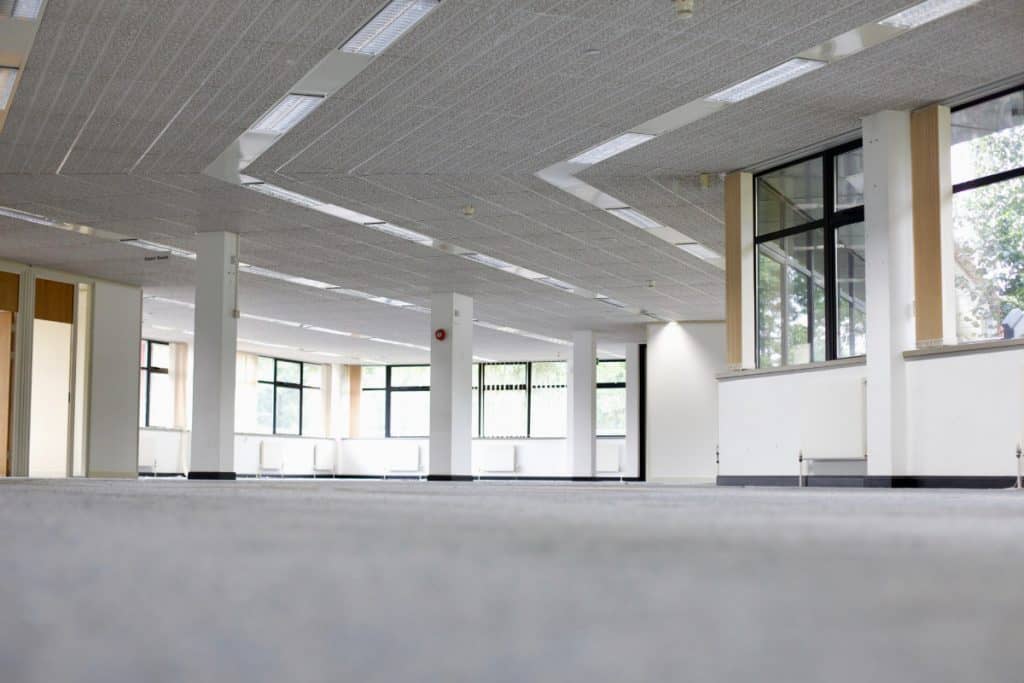 Considerations:
Upfront Costs:

Leasehold offices require higher upfront costs for setting up and furnishing the space, as well as arranging your own utilities and CAT B works.

 

Long-Term Commitment:

Leasing office space involves a longer commitment, typically making it more challenging if your business needs to adapt suddenly. However, we recognise the importance of being reactive to change, so remain flexible and supportive, even with long leasehold arrangements.

 

Maintenance and Management:

Businesses are responsible for managing and maintaining their own office space, which can be time-consuming and can incur various expenses.

 
Deciding a winner for serviced offices vs leasehold offices, depends entirely on your business's unique needs and circumstances. If flexibility, minimal setup hassle, a hybrid working model, and a ready-to-use set-up are your top priorities, a serviced office might be the right fit. On the other hand, if you seek long-term cost-effectiveness, and complete control over your workspace, a leasehold office might be more suitable. Evaluate your budget, growth projections, and operational requirements before deciding. Remember that the right office space can significantly enhance your business's productivity, culture, and success.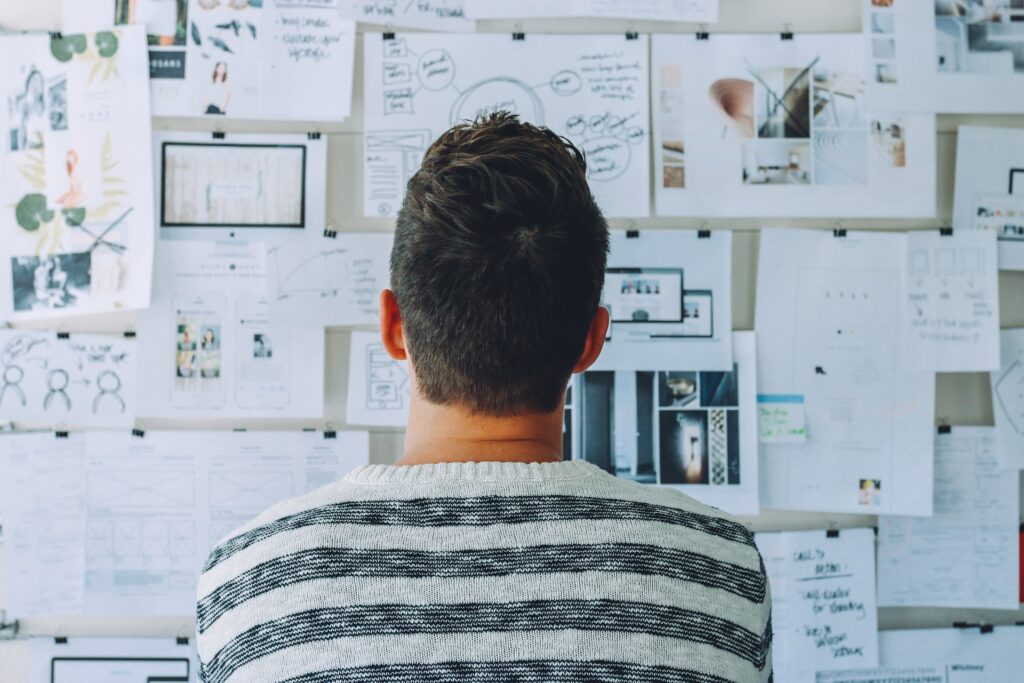 Serviced Offices VS Leasehold Offices at Winslade Park
Winslade Park is a thriving business and lifestyle community on the outskirts of the bustling city of Exeter. There are many reasons to move your business to this upcoming location, and there has never been a better time to register your interest. Offering a mix of serviced and leasehold spaces, the location is highly desirable for companies eager to build networks and lay down roots.
With the upcoming completion of Brook House and Clyst House, we're primed to open a further 70,000+ SQ FT of space, offering flexible work-spaces for many more local businesses. What's more, our advisors are here to support you in deciding between serviced offices vs leasehold offices, to ensure you get the right product for your needs.
Call 01392 691345 or complete the enquiry form below.